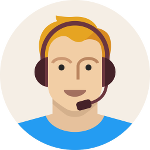 Interested in working with us?
---
About us
Hoplance is a tech company that believes that clients and skilled professionals deserve a better place to connect and work together. The way clients find high-quality professionals is broken and too many intermediaries are taking advantage of that. We are committed to fixing the issue once and for all.
Our keywords are: vetted professionals, no middlemen, no time-wasting, just more, high-quality projects. We use new technologies, such as machine learning, to make this possible. If you share the same vision, help us make it happen.
As a team member in an early-stage company, you'll have the freedom, flexibility, and responsibility of working on all aspects of a full-scale web application.
Openings
We're not currently hiring but we are always on the lookout for great talent. If you recognize yourself in one of the following roles, and you believe in our vision, don't hesitate to let us know.
Ruby on Rails wizard
Front-end magician (React)
Community manager hero
Digital marketing guru