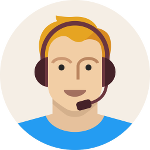 Connect with like-minded people. Find new clients from startups to corporates. Collaborate with other hoplancers. Increase your reputation. Get paid on time. These are just a few advantages of our hoplancers.
Current solutions for reputable clients and skilled professionals to connect are controversial or inefficient, and we believe they deserve better. We are determined and committed to creating a great framework for them to meet.
Qualified projects each worth thousand of dollars, vetted professionals, no middlemen, no waste of time, just more high-quality projects. Join now the freelance revolution!